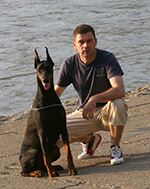 I am Dejan Milosevic - owner of the UREACHABLES FCI kennel
In the year 1996 I got my first Dobermann, Lora Leona von Cobra. I went with her to some shows and she got the title Youth Champion of Serbia. Unfortunately she got demodicose so she was not qualified for breeding. Later I got the female Gvendi (Nestor iz Zoosfery x Danadella van Doberlands Stam).
In the year 2004 I have registered my kennel "Unreachables" by the KSS / FCI - under the number 4371.
Gvendi was my first breeding female. After much deliberation I decided for Garangoldem di Campovalano as stud dog for my
A litter. It was one of the most famous stud dogs at this time in Serbia and was an export from Italy. One female was kept for the kennel's future - Andjelija Golden Unreachables.
Casanova Unreachables was the first male I kept, sired by Come As You Are Jared. Below success I could achieve with him - Serbian Youth Champion, Vice Balkan Winner, Dobermann Cup Vice Winner 2007, 3x JCAC, 5x CAC, 3x res-CAC, CACIB
Finally I got my beloved female Paloma del Nasi from my friend Milan Vukotic from MNE. The success began.... International Champion, Serbian Champion, Youth Champion of Montenegro, Golden Dobermann Club Show "Grand Prix" 2009 Exc2, res-CAC, IDC 2009 Vice Class Winner, Dobermann Cup Novi Sad 2009 Exc2, Dobermann Cup Novi Sad Club Winner 2008, Balkan Winner 2008, Euro Dog Show 2008 - Exc4, Baby Club Winner 2007, many times CAC, BOS, BOB
In the year 2009 many kilometers were covered to reach Urbano del Diamante Nero - the sire of my
F litter. The foundation of the kennel UNREACHABLES was created....